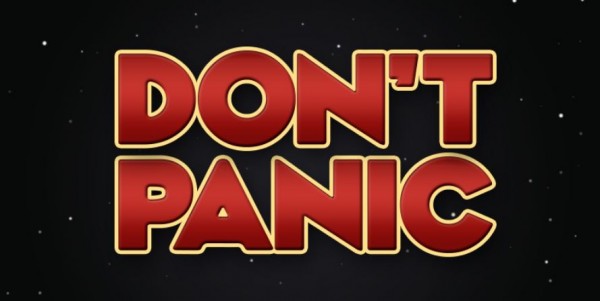 Welcome to the Hitchhiker's Guide to FandomFit! And to your FandomFit adventure!
This is how it will work:
Flash Challenges – Individual, just you.  These are one-off events that will be sent out by social media.  Do it, let us know about it, and you get a prize Easy!  (But, these are really designed to keep you ready for the next Event.) In upcoming emails, look for the word "Challenge."
Events – These are big.  Really big.  They are a lot of fun and more involved.  Here is the overview:
TEAMS:  Always in teams of 3 people.  Do you have a team? If not, you can invite teammates any time before the next event.  We encourage you to do this with people you know, and maybe even get a rival team.  However, there are those who don't have that option, so they will get assigned to two new friends.  If you still want a teammate who has not yet signed up, please simply encourage them to do so and list your email address as their desired teammate.  There are always 3 members to a team, so please plan accordingly.
Points are given for your efforts.  We have point modifiers for factors like age and weight, etc., so that you can compete with anyone, no matter your starting point.  We all start somewhere!
No one but us will see your exact times or quantities.  No shaming or embarrassment, just encouragement.  You got this!
Please note that we want teammates to encourage each other, so your email could be given to your team for that purpose.  (Only for this purpose, your information is never shared outside of our company.)  We would prefer you join with a team of three people that you know, but we try to accommodate those who do not have a team yet.
Everything is on the honor system.  We need everyone to be honest and everyone has been.  Remember, if you report numbers that are not accurate, you are ruining the fun and only hurting yourself since you won't be getting the physical benefits.  And that leads to the Dark Side.
Have fun!
We will send you a small story and an activity that is designed to give you a work out.  Please be safe and don't overdo it.  Always follow doctor's instructions and listen to your body.
You will simply report in the next morning with your times/amounts/etc. and we will do the calculations to send you a score as soon as all the scores are in.  (Although you have 48 hours to report.  Life happens sometimes.)  So please report in as timely as you can.  We will try to get the scores out within 24 hours.
How many teams you are competing against will be decided before the event begins.  But you will see the scores when we can post them.
Have fun!!
You still get all the same prizes as everyone else, except for the winning team.  They get a little extra.  There must always be incentive!  Even if you don't give any feedback you will still get the prizes, but we hope you do anyway!
You can opt out of all of this by sending me an email with the subject line "Opt Out".  You can cancel at any time.  You will be removed from all events.  If you just want to wait until you have a team, just let me know you want to wait.  No problem!
Did I mention Have fun?
Thank you so much for participating in this.  We hope you enjoy the next event, which will begin soon. We think you will have a great time!  We have other themes (Harry Potter, Star Wars, Marvel, DC, etc.) in the works so please stay tuned for future events.
Any questions?  Always feel free to ask!  Most have questions about their team, and that is ok!
To sum up: do the weekly Challenges, prepare for the next team Event!
For Glory and Triumph!
Sincerely,
Vice President of Glory and Triumph
www.FandomFit.org